Reviews
"So I put this disc in the tray without much advance thought. Guitars and Gamelan is its title. It starts off with a lively gamelan passage, pretty much what I'd expect....But at the end of a phrase all of a sudden an electric guitar enters with distorted power chords. That gets my attention! The piece is Angin Listrik....The quite wonderful thing is that the two worlds embodied in the different instruments in fact seem compatible, after the initial shock of their encounter. Part of it is that the guitars are tuned so their strings match the gamelan pitches, and the work uses rhythmic techniques idiomatic to gamelan, even if the motives often feel as much from rock. It's lively, imaginative, and gets the proceedings off to a great start. Two other works take dramatically different approaches. The 2004 Concerto was written for John Schneider, who is the mastermind of MicroFest, and the leading exponent of "just intonation" guitar, a special instrument designed for him so as to easily accommodate a variety of tunings. It's in four movements, and moves through a series of states both lyrical and animated. It feels to me very much in the tradition of Lou Harrison's forays into a dialogue between western instruments and gamelan, moved to the next level. Metalloid (2007) on the other hand, is for an ensemble of winds, guitars, keyboards, and drums. The tuning in this one sounds "grittier", and from what I see of the ratios provided in the notes, it's the result of the 7th partial guiding the resultant tunings (that would be the "flatted minor 7th" of equal temperament, for us geeks). But the piece that is the tour de force is Rational Basis (2011). Written for eight electric guitars, playing only retuned open strings and natural harmonics, it is powerhouse. The piece grows with compellingly groovy rhythms, then will pull back, and suddenly jolt you with a new wave of grunge, leading to an even more powerful climax. Frankly the first time I heard it, in the car, I was whooping near the end. Thank God I didn't have an accident. I suspect that may not be too far from the source: this strikes me as a very LA piece....I enjoyed all the works here, but Rational Basis is a knockout, and for me the reason to get the disc. Yes, it's only 11 minutes but it will give you a charge for the rest of your day." -- Robert Carl, Fanfare
"If for some reason you have ever wondered what electric guitar and gamelan would sound like, Bill Alves has answered the question. Angin Listrik is just over 9 minutes of bells that sound just the right amount of off and a couple of chunky electric guitars. The guitars are relegated to mostly rhythmic positions, making the piece sound highly minimal. Rational Basis adds more melodic variety in the ostinatos that are heard and replaces the bells with many more guitars. Metalloid keeps all the compositional elements but tosses in drum set, keyboard, saxophone, and clarinet. The piece settles into a funky groove accentuated by the drum kit and meanders through various sections. Tunings are different from the norm in Metalloid and Alves's Concerto uses just intonation on the guitar." -- American Record Guide
"Bill Alves' Mystic Canyon feaatures the virtuoso vivolin of Susan Jensen and the radiant, bell-like tones of the Javanese Gamelan Orchestra. Their thoughtful performances feature minimalist polyrhythms, lyrical melodies, and propulsive percussion. Ranch and Reata readers are very eclectic in their creative choices and Mystic Canyon will be a new lyrical adventure, well worth the trip." -- Ranch and Reata
"Stunningly beautiful pieces for violin and gamelan ranging from rhythmic and intense to serene and highly lyrical. Play, play, play!" -- WRUV-FM
"This music is mesmerizing and quite beautiful. Susan Jensen's superb violin playing, with its rich and languorous musical lines, overlays the soft, delicate and glim- mering sounds of the bronze gamelan instru- ments. They provide a range of mellifluous musical patterns with their polyrhythms, sometimes static, and at other times gently shifting. The ambience of Mystic Canyon is ethereal and diaphanous, with contrasting sections where the violin is prominent, followed by occasional breaks with just gamelan, all fading away gently at the end of the piece. The six movements of the concerto display a variety of moods and techniques ranging from energetic and percussive, to changing textures and gentle interlocking rhythms, to more inert ostinati backing the violin's soaring melodies. This is music that will appeal to gamelan and non-gamelan specialists alike." -- Annette Sanger, The Whole Note
"Both works are gentle, rhythmically engaging, and lyrical; and they are well performed and recorded." -- Rob Haskins, American Record Guide
Bill Alves isn't the first Westerner to be fascinated by the gamelan, an Indonesian orchestra composed mainly of chimes, gongs, and wooden or metallic xylophones. From Debussy on, musicians such as Colin McPhee and Lou Harrison have found inspiration in its scintillating complexity and vibrant sonority. Alves's music draws on the authentic sound and style but adds non-traditional instruments--cello, violin, shakuhachi, and electronics--to extend the expressive range. Gamelan music includes rapid, multilayered compositions as well as dignified meditations in which texture and timbre are as important as the simple melodies. Alves has mostly chosen the moderately paced road--two relatively somber pieces are intended as elegies, and Tingklik Toccata, as its name implies, is more energetic. Throughout the CD, the Western instruments aren't used en masse but as soloists within the sensuous instrumental surround. In-yo, for shakuhachi, is particularly mesmerizing, with its minimal, but atmospheric gong strokes adding reverberant support. If you're at all attracted to the entrancing gamelan atmosphere, then you should find this an absorbing CD of inventive music that is at once contemporary and redolent of Indonesia's refined musical culture. -- Fanfare
(CD pick of the week): "Bill Alves is a California-based composer who thinks Americans are ready for a new type of chamber music. One built around the sounds of Indonesian gamelan instruments. In an unusual tuning. With occasional electronics or Japanese flute. Clearly Alves is a bit of a dreamer. But he also knows his way around the gamelan, and his chiming, richly textured works, often pairing the Indonesian percussion with western violin or cello, are easy to like." -- John Schaefer
"...voices, gamelan, and computer-generated tones joined in a haunting, nocturnal reverie: unearthly, far beyond the reaches of harmonic or tuning systems." -- Alan Rich, LA Weekly
Of The Terrain of Possibilities:
"...uses change ringing, timbrally shifting drones, and post-minimalist tonality and rhythms. Best of all, Alves avoids both academic formalism and new age vapidity. Instead he creates sonic terrains of precisely matched tensions and beautifully timed releases, as well as structures which seem to grow naturally like organic crystals or frost patterns. Intelligent, warm, and engaging music." -- Option Magazine
"Bill Alves's music definitely grows from the tradition [of minimalism], but he throws his own spin on it as well. Like Lou Harrison, Alves uses many tuning systems, sometimes alternating among several. This gives his music a shadowy, shifting cast. Melodic patterns of various length interact with different tunings, not creating tension, but pushing the listener's attention to and fro." -- Keyboard Magazine.
"...moves forward with the drive of gamelan while displaying Alves command of timbre." -- Juxtaposition ezine
"...beautiful and expansive...wonderfully rich textural gestures" -- ICMA Array
"It began as a wall of sound, like standing atop a windy mountain straining to hear the rumbling bass melody in the distance. The clusters of notes washed together and averaged into a drone which became a musical line unto itself....Alves glided through notes like a bird on the wind, seemingly continuously rather than discretely. Without microtonality, there is no way a piano could sound so natural; it's as if wind were transported directly into the hall and pitched to a melody, but still unfettered by tonality. A truly spellbinding work by Alves." -- New Classic LA
Of A Sonatina:
...a gracious and calming presence. The piano accompaniment has a pastoral and liquid feel, like a running spring brook." --Sequenza21
Of The Question Mark's Black Ink:
"...electronically refracted music of the spheres...with themes and rhythms of a decidedly American thrust." -- Pasadena Star-News
"...structurally and stylistically diffuse and subtle...a sort of post-minimalist version of English change ringing." -- LA Times
"...cool, remote and with a soft whirring sound like some alien machinery running in the basement. The sound steadily increases, as if we are approaching the source, and the crescendo builds to a single strong piano chord....In its quieter moments The Question Mark's Black Ink is beautiful music and the playing has just the right sensitivity and touch." -- New Classic LA
"Bill Alves' provocatively titled The Question Mark's Black Ink (taken from the poem "Subconscious" by S.L. Hough) expands on the acoustic soundworld of the opener in complementing the piano and percussion elements with electronic tape. The way in which it's incorporated is anything but gratuitous, however: the tape's sounds are derived from the live instruments as they're played, and the musicians are synchronized to this tape by "click tracks" and other cues they hear via headphones. What results is a wide-ranging, eighteen-minute travelogue that engages on both melodic and experimental grounds. Augmented by a background electronic hum, delicate tinklings of piano and percussion interweave during one episode, while another finds the two plunging into a forcefield of glassy shards and shimmer. Alves' material alternates between moments of agitation and calm, the music at times intense and at other times soothing." -- Textura
"audacious...bright, vibrant, microtonal...even melodious." -- LA Times
Of aleph:
" pinging, quasi-gamelan tones and radiating linear patterns on screen with artful logic." -- LA Times
"... intimations of a search for meaning beyond traditional structures of thought." -- realtime arts
"'One of the richest lives ever lived in American arts' write Bill Alves and Brett Campbell of the life of Lou Harrison. They mention this almost in passing, but by the end of their immense and impressive biography of the American composer, instrument builder, performer and teacher (1917-2003) one is inclined to agree....It is a good story. Alves and Campbell tell it as a journey from darkness to light, a three-striped arc: from atonality to modality, from modern West to ancient East, and from mental breakdown to contentment. This is understandable, and it makes for a warm-hearted, page-turning read....Too large to fit in my bag, I carried this book in my hands for several days while at the Huddersfield Contemporary Music Festival in November, plonking it on available surfaces and preparing my review in between concerts. Everyone who saw it was intrigued and they all had the same response, even those who had received their musical education in the United States: 'Wow. There's a composer I know almost nothing about, but wish that I knew more of'. It is to be hoped that this generous, sympathetic and exquisitely researched book will answer that need, and give Harrison's music the profile that his life earned for it." -- Tim Rutherford-Johnson, Tempo
"The weighty tome will surely appeal to Harrison aficionados....Readers who are willing to take a deep dive will be well rewarded....Harrison's life story was an inspiring one, as Alves and Campbell demonstrate.One can only hope that Harrison keeps being discovered and rediscovered. This book is one of the many elements that will help, brick by brick, to confirm his legacy as one of the great composers of our time." -- Geeta Dayal, 4columns
"In Lou Harrison: American Musical Maverick, Bill Alves and Brett Campbell have written an eminently scholarly, fair-minded, and exhaustive biography of a composer they claim enjoyed "one of the richest lives ever lived in American arts." Harrison's blend of Eastern and Western music-making techniques, his "ecumenical spirituality," and his deep distrust of the academy allowed him to chart his own path, "without obligation to musical trend makers or others' ideas of a conventional career."...Alves and Campbell have written a noteworthy book, one that combines an engaging biography with valuable musical analysis." -- Philip Gambone, The Gay and Lesbian Review
"Lou Harrison's avuncular personality and tuneful music coaxed affectionate regard from all who knew him, and that affection is evident on every page of Alves and Campbell's new biography. Eminently readable, it puts Harrison at the center of American music: he knew everyone important and was in touch with everybody, from mentors like Henry Cowell and Arnold Schoenberg and Charles Ives and Harry Partch and Virgil Thomson to peers like John Cage to students like Janice Giteck and Paul Dresher. He was larger than life in person, and now he is larger than life in history as well." -- Kyle Gann
"I studied with Lou Harrison, and he provided my first up-close exposure to world music, to different tuning systems, and to a real live member of the pantheon of American experimental music. I highly recommend this exhaustively researched book, which clearly captures his personality and life: his states of mind, his sexuality, his self-awareness and self-questioning, his journey from young, under-employed composer to lauded master." --David Lang, Pulitzer Prize-winning composer
"...a superb new biography" --Alex Ross, The New Yorker
"...comprehensive and engrossing" -- The New York Times
"...an illuminating and engrossing new biography" -- Mark Swed, Los Angeles Times
Photos

Bill Alves
Photo credit: Kevin Mapp

Bill Alves in gamelan
Photo credit: Kevin Mapp

The HMC American Gamelan
Photo credit: Kevin Mapp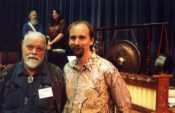 Bill Alves and Lou Harrison, 2001

Full resolution images from video works available here: